Black-Owned Banks: An Unsung Support System For Entrepreneurs
Ryan Velez | 4/13/2017, midnight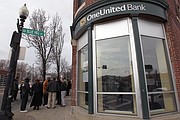 It has long been an issue in the Black community that there is a lack of internal wealth compared to other minority groups across the country. This internal wealth is key to helping African-Americans both grow their communities and achieve their full financial potential. RollingOut points out to us that there are some Black-owned resources out there, and one of the most important is Black-owned banks.
While this fact doesn't appear in a lot of history books, Black banks have been around for quite some time, since The Savings Banks of the Grand Fountain United Order of True Reformers opened on April 3rd, 1889. While a sometimes passed-over part of the Black community, a recent USA Today article has revisited the Black bank as an institution, and what it means for Black entrepreneurs.
Michael Grant, the president of the Washington, D.C. based National Bankers Association, a group designed to promote minority-owned financial institution, minced no words on the importance of banking Black.
"I think the community is trying to figure out ways it can strengthen itself — and what better way to address issues facing Black America than to start harnessing our dollars and building some wealth and creating jobs in our communities?" he said to USA Today. His words were backed by Frederick Daniels, Jr., executive vice president and chief credit officer of Citizens Trust Bank, who described Black banks as the center of a "true movement."
"If we can bring together our economics collectively, we can help businesses grow, we can help people obtain home loans. That brings them closer to the American dream," he said. "We're providing a tangible solution for those who want action." While we may not think too much of black-owned bank, RollingOut sums of the discussion with two major reasons why we should give them extra respect and consideration.
The first, sadly, is a lack of opportunities with other financial institutions. The fact of the matter is that racism takes many forms, and in the financial world, some of these include predatory lending, as well as other policies put in place that makes it more difficult for Black people to succeed financially compared to other groups.
The second is the community aspect. Black-owned banks, by nature, tend to lend out to Black communities. This leads to a better understanding of the needs and wants of locals, which in turn, not only raised the community up financially but also in terms of supporting one another in general.