Black Identity Isn't the Only Thing Rachel Dolezal Stole
Anne Branigin/ The Root | 4/13/2017, midnight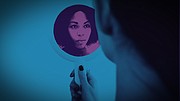 I remember, with painful clarity, the time I ached to be white. I mean that literally, by the way. I stuck a clothespin on my nose when I was about 6 years old, hoping to shape that flat, Filipino knob of flesh into a more aquiline point. That shit hurt and, even worse, it didn't work.
This desire to be white was amplified by a commercial for skin-bleaching lotion I saw on TV in the Philippines, where I was raised for a portion of my childhood. Filipinos, like most Asians, are color-struck, equating lighter, fairer skin with wealth, status and capital-B Beauty. Although I was half-white (or mestiza, as Filipinos call it) and the lightest of my cousins, my Southeast Asian features—the dark-brown eyes; the tan skin; the flat, button nose—made whiteness, and white identity, elusive. When I look at pictures of myself as a child now, I'm surprised that I ever felt that way. But back then, whiteness was a thing to fetishize, aspire to and pray for, but never reach.Reading In Full Color, Rachel Dolezal's memoir, I was struck by this similarity between her and me. We both grew up fetishizing an other, aching to inhabit a skin that wasn't our own. But for me, the experience of longing for whiteness, the need to create it and mold myself to it, would always be the reason I could never see myself as a white woman. Not so with Dolezal, who, as her book makes clear, fetishized and exoticized black identity before ultimately conjuring up a version for herself.
In another grotesque twist, with the publication of her memoir, Dolezal has now exerted herself as an expert on racial fluidity. A concept that does exist and a conversation that is necessary—but one that, like blackness, she has no authority to speak on.
A study comparing census responses in 2000 and 2010 shows that approximately 9.8 million people changed their racial classification from one year to the next—a phenomenon labeled "racial churn." While movement between categories was seen across all races, the most "instability" (that is, the categories in which more people moved in and out of) was seen in people identifying as Native American, Pacific Islander or mixed race.
Researchers don't fully understand why this movement exists, but one of the study's authors, Carolyn Liebler, noted to me that those groups historically saw a lot of mixed-race families, which could complicate the idea of where one belongs. Given the ways in which race affects behavior and political attitudes, the fact that almost 10 million Americans struggle to name this aspect of their identity is important to explore in this moment, when anxiety about diversity (that is, the unwhitening of America) is what led many white people to vote for Donald Trump in the first place.
But instead of hearing their stories, we hear Dolezal's. She trots out sociological theories to mask a racial fantasy—a word I'm borrowing from Dolezal herself—that she claims was born out of trauma.