Despite Its Reputation for Elitism, Artists of Color Say the National Endowment for the Arts is Worth Saving
By Sameer Rao /Colorlines | 4/6/2017, midnight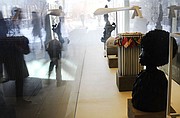 If passed, Trump's "America First" budget will eliminate the National Endowment for the Arts. How will this affect already-marginalized artists of color?
Nearly two weeks have passed since President Donald Trump's administration proposed a budget that would defund the National Endowment for the Arts (NEA). Compared to issues such as health care and education, the possible dissolution of the federal agency created in 1965 by President Lydon B. Johnson hasn't garnered much attention. And yet, like the Corporation for Public Broadcasting and the National Endowment of the Humanities, the NEA has long been a target of self-described fiscal conservatives who consider it wasteful spending. Laid against the material expenses of costly wars in places such as Iraq, Afghanistan and Vietnam, the NEA costs have always been miniscule. Its budget has never surpassed $170 million. In 2016, NEA funding made up a mere .004 percent of the overall budget, a cost of 46 cents per American taxpayer. Despite its relatively low cost, the NEA funds arts and culture programming in all 50 states.
The agency doesn't provide statistics about its grantees based on race or ethnicity. But figures from an NEA fact sheet show that 40 percent of NEA-supported activities take place in high-poverty areas, 36 percent of its grants support organizations working with disadvantaged populations and 33 percent serve low-income audiences. We spoke to a number of grantees, judges and culture workers about what an end of the NEA might mean to people of color. Havana-born jazz pianist and composer Fabian Almazan's extensive resume includes frequent collaborations with Terence Blanchard on Spike Lee film scores, a Grammy nomination for his work on Blanchard's "Breathless" and a recent run with the opera "Champion" at the Kennedy Center. But despite his track record, Almazan would not have been able to record his four solo albums without the NEA. The problem is structural, he says.
"In the past, most people would listen to music either on the radio or physically purchase albums, creating a profitable environment for successful musicians," says Almazan, who also runs an independent record label, Biophilia Records. "Now, the majority of listeners don't pay anything to stream music. The websites that host the music make the overwhelming majority of the profit and the musicians are left with, literally, fractions of pennies. This makes it so that only mega pop stars are able to make money, which in turn creates a musical world void of diversity. It becomes a formulaic, business-driven machine rather than art." Almazan believes the NEA can offset this process in part by supporting people who wouldn't otherwise make enough money to sustain their art.Almazan has worked with The Jazz Gallery, an NEA-funded organization dedicated to nurturing emerging talent in New York City. Its artistic director, Rio Sakairi, has served on NEA panels to identify and select grantees. She says that rather than being the biggest funder for most organizations, the NEA "sets the standard of how money is disbursed by other foundations or agencies." Sakairi adds that the NEA not only makes grants to organizations like hers but directly supports musicians through programs like the Jazz Masters Fellowship. The NEA is not without its critics within the arts. Some call it elitist and say it prioritizes large established organizations over newer or smaller ones and freezes out young creators of color. Robert "Biko" Baker, a digital storyteller and former executive director of the League of Young Voters who served on NEA award panels during the Obama Administration, says that disconnect is a matter of scale. "Art groups and young leaders influencing the sphere don't have the capacity to put forward a proposal that can be taken seriously because [the application process] is very data- and analytic-driven, or they don't have the time because they're trying to fucking make money."