Kaepernick Will Sit Through Anthem Until There's Change
By Janie Mccauley/ AP Sports Writer | 9/1/2016, midnight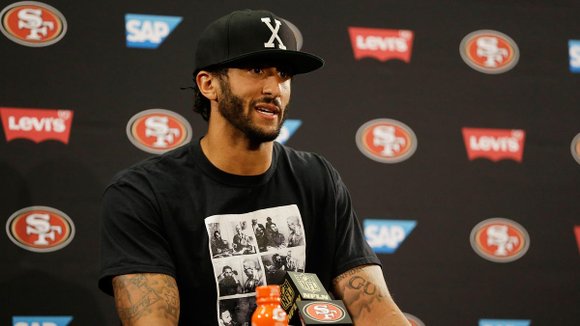 Santa Clara, CA--Defiant, and determined to be a conduit for change, Colin Kaepernick plans to sit through the national anthem for as long as he feels is appropriate and until he sees significant progress - specifically when it comes to race relations in the United States.
He knows he could be cut by San Francisco for this stand. Criticized and ostracized, he'll go it alone if need be.
The quarterback realizes he might be treated poorly in some road cities, and he's ready for that, too, saying he's not overly concerned about his safety, but "if something happens that's only proving my point."
"I'm going to continue to stand with the people that are being oppressed," Kaepernick said Sunday at his locker. "To me this is something that has to change. When there's significant change and I feel like that flag represents what it's supposed to represent, this country is representing people the way that it's supposed to, I'll stand."
Two days after he refused to stand for the "The Star-Spangled Banner" before the 49ers' preseason loss to the Packers, Kaepernick insists whatever the consequences, he will know "I did what's right." He said he hasn't heard from the NFL or anyone else about his actions - and it won't matter if he does.
"No one's tried to quiet me and, to be honest, it's not something I'm going to be quiet about," he said. "I'm going to speak the truth when I'm asked about it. This isn't for look. This isn't for publicity or anything like that. This is for people that don't have the voice. And this is for people that are being oppressed and need to have equal opportunities to be successful. To provide for families and not live in poor circumstances."
Letting his hair go au natural and sprinting between drills as usual, Kaepernick took the field Sunday with the 49ers as his stance drew chatter across NFL camps.
He explained his viewpoints to teammates in the morning, some agreeing with his message but not necessarily his method. Some said they know he has offended his countrymen, others didn't even know what he had done.
"Every guy on this team is entitled to their opinion. We're all grown men," linebacker NaVorro Bowman said.
"I agree with what he did, but not in the way he did it," wideout Torrey Smith said. "That's not for me. He has that right. Soldiers have died for his right to do exactly what he did. ... I know he's taken a lot of heat for it. He understands that when you do something like that it does offend a lot of people."
Bowman and Smith are African-American.
Kaepernick criticized presidential candidates Donald Trump ("openly racist") and Hillary Clinton;" called out police brutality against minorities; and pushed for accountability of public officials.
"You can become a cop in six months and don't have to have the same amount of training as a cosmetologist," Kaepernick said. "That's insane. Someone that's holding a curling iron has more education and more training than people that have a gun and are going out on the street to protect us."