Recognizing the Life and Ministry of South Hills Presbyterian Church (1954 - 2016)
10/27/2016, midnight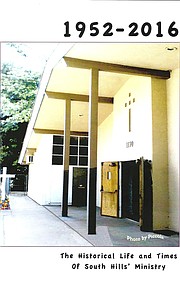 Pomona, CA--Everything Has Its Time. "For everything there is a season and a time for every matter under heaven..." Ecclesiastes 3:1.
South Hills Presbyterian Church has been the only predominately African American Church in the San Gabriel Presbytery during the last 62 years. Under the leadership of Rev. Ivan C. Walks (1964 to 1988) the church became a pillar of fire in a troubled community. South Hills became a church of courage. It was a center for community needs, secular, social and economic as well as spiritual. It has been a church that cares!

Its auxiliaries included: A Neighborhood Service Center, Brothers Catalyst for Christ, Presbyterian Women and a Parish Nurses Health Ministry. Guest minister delivering the closing service will be TE Rev. Dr. Charles Marks from Pacific Presbytery. We are looking forward to welcoming you as we praise God and give thanks for what he has allowed us to been. The ministry of South Hills will continue to live in the hearts and actions of those who have been a part of the church. SERVICE: 3:00 p.m. - Sunday, October 30, 2016 -1170 Fremont Street - Pomona, CA 91766 - (909) 622-6538.