A Trump Mandate? Clinton Says Give Him 'Chance to Lead'
Julie Pace/ Associated Press | 11/10/2016, 9:38 a.m.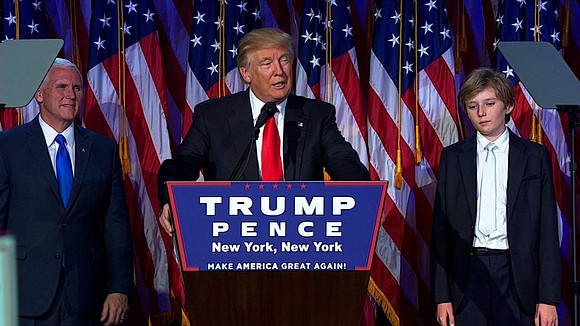 Washington, D.C.-- Emboldened Republicans claimed a mandate Wednesday for President-elect Donald Trump after his astonishing election triumph, and an emotional Hillary Clinton told crestfallen supporters the GOP victor deserved a "chance to lead." President Barack Obama pledged a smooth transition of power.
"We are now all rooting for his success in uniting and leading the country," the president said of the president-elect, the man who spent years questioning Obama's birthplace and challenging the legitimacy of his presidency. Obama, who had declared Trump unfit for the presidency, invited him to the White House Thursday.
Trump was uncharacteristically quiet in the aftermath of his triumph and made no public appearances Wednesday. He huddled with jubilant, sleep-deprived advisers at his eponymous skyscraper in Manhattan, beginning the daunting task of setting up an administration that will take power in just over two months. He also met with Vice President-elect Mike Pence and took calls from supporters, family and friends, according to spokeswoman Hope Hicks.
After struggling for months with Trump's takeover of their party, Republican leaders embraced the businessman in victory. House Speaker Paul Ryan, who was lukewarm in his support throughout the campaign, praised him for pulling off "the most incredible political feat I have seen in my lifetime."
"He just earned a mandate," Ryan declared.
Indeed, Trump will take office in January with Congress fully in his party's control, giving him strength to try to pass his agenda and turn the Supreme Court in a conservative direction. Even Republicans were stunned by the scope of their electoral success, including many who had been privately predicting Trump's defeat.
Clinton's emotions were raw as she addressed a crowd of supporters, eyes wet with tears, who gathered in a New York ballroom. She said the crushing loss was "painful and it will be for a long time" and acknowledged that the nation was "more divided than we thought."
Still, Clinton was gracious in defeat, declaring that "Donald Trump is going to be our president. We owe him an open mind and the chance to lead."
With several million votes still to be counted, Clinton held a narrow lead in the nationwide popular vote. Most of the outstanding votes appeared to be in Democratic-leaning states, with the biggest chunk in California, a state Clinton overwhelmingly won. With almost 125 million votes counted, The Associated Press tally had Clinton with 47.7 percent and Trump with 47.5 percent.
Trump's sweep of the battleground states that decided the election was commanding. He carried Florida, Ohio and North Carolina, three of the election's biggest prizes, and snatched reliably Democratic Pennsylvania and Wisconsin away from Clinton.
Trump's support skewed older, male and overwhelmingly white. His supporters said they were deeply dissatisfied with the federal government and eager for change, according to exit polls conducted by Edison Research for The Associated Press and television networks.
Global stock markets and U.S. stock futures plunged early Wednesday on word of Trump's election, but later recovered. The Dow Jones industrial average was up more than 1 percent in late-day trading in New York.