Simply Amazing! The 19th annual Celebration of Excellence Awards Gala & Scholarship Dinner
Sheri L. Stuart/ IVN Contributing Writer | 5/12/2016, 10:15 a.m.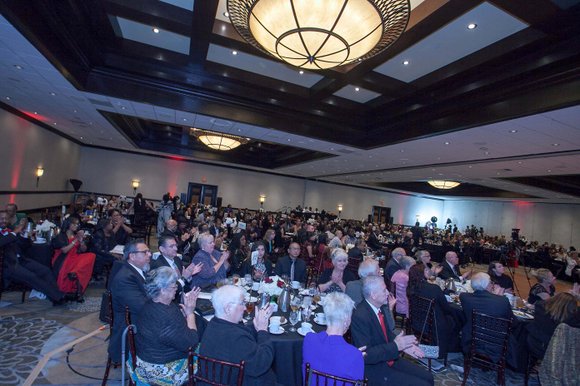 (ONTARIO, CA) – The Empire Ballroom at the Doubletree by Hilton Ontario Airport was filled to capacity on Friday, April 29 for the 19th Annual Celebration of Excellence Awards Gala and Scholarship Dinner. Presented by Inland Valley News and Shining Glory Publications with the support of many local, regional and national sponsors, the highly anticipated signature event was sold out for the eleventh consecutive year. The gala brings together a broad section of Southern California influencers to recognize excellence in the community and raise monies that are given to deserving local students in the form of educational scholarships and internships.

"We're humbled by the support we've received year after year," said Tommy Morrow, publisher of IVN and the visionary behind the event. "Our desire is to always be a beacon of light in the community and to recognize those who are doing outstanding work by using their gifts for the greater good of humanity."
Since the first gala was held in 1997, IVN has presented more than $170,000 in scholarships to students pursuing careers in the arts, graphic design, communications, visual arts and STEM related industries. Over the years, the event has evolved from a simple luncheon to an exquisite affair complete with formal attire and red carpet interviews featuring the night's honorees and distinguished guests.

This year's honorees were just as remarkable as years past. The 2016 Publishers Honorees were Tamara Weston, (National Manager of Multicultural Marketing, Macy's) –Publishers' Choice; Eric Dickerson, (NFL Hall of Famer, Entrepreneur, Philanthropist) –Lifetime Achievement Award; Dr. Lester J. Jones, (Executive Associate Dean of Academic Affairs, Western University of Health Sciences) –Educational Innovation Award; Dr. Martha Melendez, (Vice-Chairman, Department of Family Medicine, Arrowhead Regional Medical Center) –Excellence in Community Health Leadership Award; Laura Mancha, (Board Member, San Bernardino County Board of Education) –Excellence in Educational Leadership; Dr. Felice Loverso, (CEO of Casa Colina Hospital and Centers for Health) – Excellence in Corporate Leadership; Gilbert A. Holmes, JD. (Dean and Professor of Law, University of La Verne) –Excellence in Jurisprudence Award; Richard E. Yochum (President and CEO of Pomona Valley Hospital Medical Center) –Excellence in Hospital Administration Award.
The Community Awards Recipients who were nominated by their peers in the community were Kenneth Gray, Excellence for being a Champion of Change; Linda Wright-Lee, Excellence in Community Activism; Antoine & Heather Dunham, Excellence in Youth Empowerment; A. Majadi, Excellence in Youth Advocacy; and Larry Ortega; Excellence in Technology Activism.
"We've already started planning next year's milestone event," said Ta Lese Morrow, IVN Co-Publisher. We've received early commitments from several corporate sponsors who want to be a part of the 20th year celebration. We're excited to be able to continue our work in helping deserving students pursue their dreams while at the same time honoring incredible individuals who are doing their part to make the world better. This is truly a labor of love."
Please follow link to enjoy the 19th Annual Celebration of Excellence Photo Gallery http://inlandvalleynews.com/photos/galleries/2016/may/16/celebration-excellence-awards-gala-scholarship-din/