Darrell Wallace Jr. Continues to Pave New Roads in NASCAR
By Kimberly Wilson/ The Root | 3/3/2016, 10:43 a.m.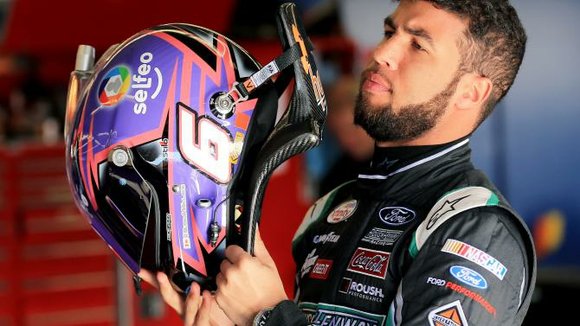 The only full-time African-American driver in a national series talked to The Root about his historic 2013 win, how he prepares to win and living up to the legacy he's created.
For many, NASCAR is not a sport "for us." But that stigma is slowly changing, especially with Darrell Wallace Jr. in the game.
Wallace, affectionately known as "Bubba" to family and friends, made history in 2013 when he became the second African American in history to win a NASCAR national series (the first was Wendell Scott, in 1963). Finally, we had someone we could root for. As a product of NASCAR's Drive for Diversity program, Wallace may be the second to make waves in the sport but, hopefully, won't be the last.
Now driving in his second NASCAR Xfinity Series, making him the only full-time African-American driver in a national series, the two-time Camping World Truck Series winner chatted with The Root about his relationship with Wendell Scott's family, what gets him in the zone before each race, NASCAR's Drive for Diversity program and living up to the legacy he's already created for himself.
The Root: You finished your rookie season in the Xfinity Series. How are you feeling headed into this season?
Darrell Wallace Jr.: I'm good; I'm ready to go. It's been a long off-season. A lot of changes have been made at the shop teamwise, carwise, which is all piling in to be a really good season for us.
TR: How do you mentally prepare before every race? Do you have a ritual?
DWJ: I don't really have a ritual. On the car rides over to the racetrack, I just make sure that the right songs are on. I listen to the heavy-metal stuff you can't understand. Music is kind of motivational and it helps me get my mind right.
TR: In 2013 you were introduced to the world when you won your first truck race series, becoming the second African American ever (after Wendell Scott) to win the title. I'm sure that bonded you with Wendell Scott's family at the time. Do you still have a relationship them?
DWJ: Absolutely. [Wendell Scott] Junior actually just texted me two days ago. He's always sending messages of motivation. The family is pulling for me, and it's good. It's fun to have that relationship with the family, especially because they've been going through some tough times lately.
TR: Is there any special advice his family gave to you?
DWJ: At some of the tracks we've been to, they would reminisce [about] their dad, and it was great to hear those stories.
TR: Are you tired of the "second African American to win a national NASCAR series" narrative? Do you ever think to yourself, "I'm just a driver like the rest of these guys"?
DWJ: Not really, because it's the truth. I am the second African American to win in a national NASCAR series. If it were the 50th, then I'd say yes. To have that kind of title, you can play it up to an extent. But at the end of the day, I go out there and do what I do. I also let the performance speak for itself.