America's Best-Selling Vehicle, Ford F-150, Still Delivers
By Charles Fleming | 7/27/2016, noon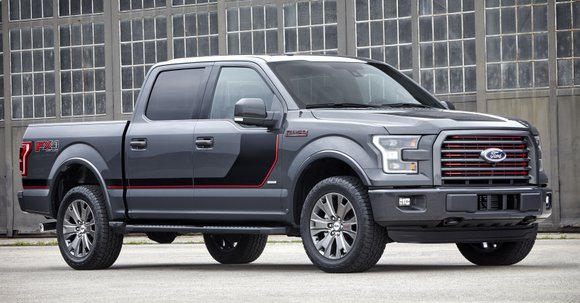 For 34 consecutive years, the Ford F-150 has been the best-selling vehicle in the United States and the best-selling truck for even longer.
Ford sold 780,354 of its F-series trucks in 2015, including models from its brawnier 250, 350, 450 and 550 lines, outpacing trucks made by Chevrolet, Ram, Nissan and Toyota.
This year, said Doug Scott, Ford's truck group marketing manager, sales through May are 7 percent ahead of 2015.
Those numbers include all Ford's pickups, but the bulk of the vehicles sold are F-150s, which in the heartland are the preferred daily drivers for the country's construction workers, farm workers and cowpunchers. Like the people who drive them, these trucks are purposeful, plain and hardworking.
Until you get to the top of the trim line.
The Supercrew 4x4 Limited is about as fancy a truck as Ford makes. Sitting at the top of the spread from entry-level XL to XLT to Lariat, King Ranch, Platinum and Limited, it's Ford's rhinestone cowboy car.
Trimmed in leather, accented by wood paneling and fitted with the latest electronics, technology and sound systems, it's a conspicuous consumption vehicle — riding high in traffic, taking up every inch of its freeway lanes and gulping gallons of fuel.
Driving the Supercrew Limited around town, I started asking myself, "Does this truck make my wallet look fat?"
More than 19 feet long, 8 feet wide and almost 6 feet tall, it's too big for some parking structures and most parking spaces. While it has enough ground clearance and gross vehicular weight to squash a Smart car or flatten a Fiat 500, doing that didn't seem like it would increase my chances of finding someplace to leave it.
Who's it made for? At just under $70,000, this isn't the working person's truck. It's not even the foreman's truck. This is the boss' truck.
And what is he doing with it? The Supercrew seats five and has a 5.5-foot short bed. The boss might take his lawyer and tax accountant and their spouses out for dinner, but he's probably not hauling a load of pea gravel.
Not that the truck's not up for that. This Supercrew came with Ford's 3.5-liter V-6 Ecoboost engine, which makes 365 horsepower and 420 pound feet of torque. Fitted to a six-speed automatic transmission, it gets accordingly pretty poor fuel economy — an EPA estimated 18 miles per gallon for combined city and highway driving, but about 12 miles per gallon during the time I drove it.
The Limited Supercrew also can be had with a 5-liter V-8 engine — though Ford doesn't offer it in a diesel configuration — and can be ordered with a 6.5-foot or 8-foot bed.
With the standard power plant, it's capable of carrying close to two tons of payload and towing 12,200 pounds of trailer.
On the road, the Limited is like driving a cloud — quiet, powerful, comfortable. Accelerating from 65 mph to 85 mph or more produces no discernible increase in engine, tire or road noise.