Mayor Acquanetta Warren Accepts 1st Place at the U.S. Conference of Mayors
1/27/2016, 12:39 p.m.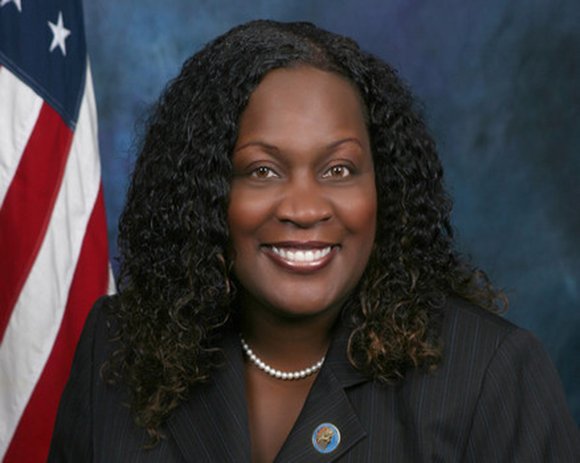 Fontana, CA--The Mayor and City Council are thrilled to announce that the City of Fontana has been awarded 1st place for a mid-size city at the 2016 United States Conference of Mayors' for the Childhood Obesity Prevention Awards. Mayor Warren accepted the award for the Healthy Kids for a Healthy Fontana program in Washington D.C. earlier today.
As first place winners of the 2016 Childhood Obesity Prevention Award for a mid-size city, the City of Fontana received a $120,000 grant to support both new and existing programs which will address the childhood obesity epidemic. A portion of the grant will fund the purchase of a cargo van that will contain unique physical fitness equipment. Now, more than ever, Fontana will be on the move! The vehicle will contain physical education activities, equipment and a mobile kitchen which will be showcased at local schools and events. Fontana will also create a new program to teach children how to prepare well-balanced meals and participate in a cooking competition. Winners of the food competition will have their recipes published for the community. To raise awareness, Mayor Warren is committed to bi-monthly walks with students to encourage them and their families to increase their exercise regimen and eat more nutritious meals.

Currently, Healthy Fontana works with the After School Program youth to teach them how to develop and sustain healthy nutritional options and life habits. These new skills can be shared with family and most importantly carried into adulthood.
Through partnerships, such as Kaiser Permanente and the Lewis Group of Companies, the City's diverse population of over 204,000 allows Fontana to focus on creating active lifestyles. Fontana's persistence in the fight to reduce childhood obesity has resulted in a 47 percent reduction in hospitalization rates for obesity-related diseases in 2015. (*Statistics provided by San Bernardino County Department of Public Health.)
The United States Conference of Mayors' (USCM), in partnership with the American Beverage Foundation for a Healthy America, provides grant support to cities in their efforts to eliminate childhood obesity. The partnership has three core components including grants, public awareness and best practices that highlight the innovative and sustainable aspects of successful programs.
For more information regarding the City of Fontana's award, please call Healthy Fontana at (909) 350-6542 or visit Healthy.Fontana.org.