Lawmakers Respond to Governor Brown's $122.6 Billion Budget Plan
By McKenzie Jackson/California Black Media | 1/14/2016, 10:57 a.m.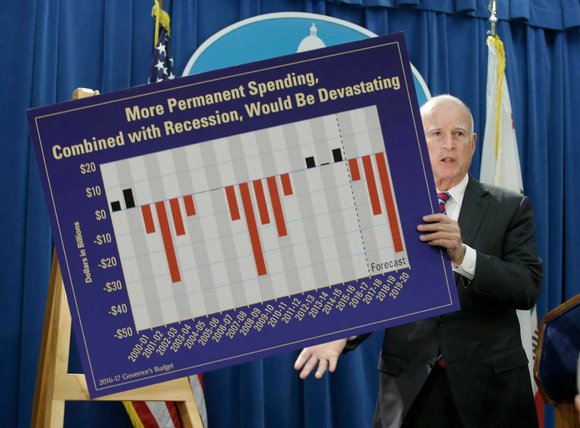 Gov. Jerry Brown's proposed budget features a flow of billions of dollars to the state's disadvantaged, poor and homeless.
Funds for specific programs geared toward helping Californians in need and a two-dollar hike in the Golden State's minimum wage are just two of the ways Brown's $122.6 billion plan for the next fiscal year intends to achieve that.
However, California Legislative Black Caucus member Sen. Holly Mitchell believes a bit more can be done to impact the lives of the state's downtrodden.
In a statement released after Brown unveiled his general fund budget plan on Jan. 7, Mitchell said more monies need to go to grants for CalWORKS, a program that provides temporary cash assistance to low‑income families with children to meet basic needs.
"The grant does not pay for a family's basic needs, and so the family may go without housing, without paying utility bills, and without transportation to the doctor. On top of that, we continue to deny aid to children simply because they are born into welfare; the poorest children, the children that need the most financial help," she said. "Common sense, scientific data, and the economics of poverty tell us we should help these kids. Yet we deny them the assistance that would allow their parents to support them. Then, we expect children raised in these circumstances to never turn to welfare, do just fine in school, somehow get through college and end up paying income taxes while we're retired. It offends me that our government does this to our children."
The governor's budget designates a five percent increase in funds to CalWORKS, a social services program, estimated to cost $326 million in 2015-16 and $319.8 million in 2016-17.
However, Mitchell, who represents several Los Angeles-area cities, said she is glad Brown's proposal sends $2.9 billon to the Supplemental Security Income/State Supplemental Payment program. The initiative provides cost-of-living funds to aged, blind and disabled Californians.
"I appreciate the Governor's recognition of the importance of this," she said.
The proposed budget features $400 million allotted for Affordable Housing and Sustainable Communities programs. Many of them seek to reduce greenhouse gas emissions by supporting more compact and infill development patterns which the government hopes would encourage walking, biking and active public transportation usage instead of driving in some disadvantaged communities.

The 265-page plan also includes an increase in California's minimum wage to $10 which raises the income of an estimated 2.2 million workers. It also gives $380 million in funding to the two-year-old Earned Income Tax Credit to help the state's poorest working families.
Other highlights of the budget include increases in funding for education, health care and state infrastructure, bolstering the California's Rainy Day Fund and paying down state debts and liabilities.
There is a $1.1 billion compromise on a new tax on health insurers to replace one that will expire in June.
Lawmakers will debate Brown's proposed budget in the coming months before the 2016-2017 fiscal year begins in July.
Like Mitchell, other politicians gave their opinions on issues the budget tackled.