MABSW Says the Crisis in Flint, Michigan is Comparable to Genocide
4/13/2016, 10:07 a.m.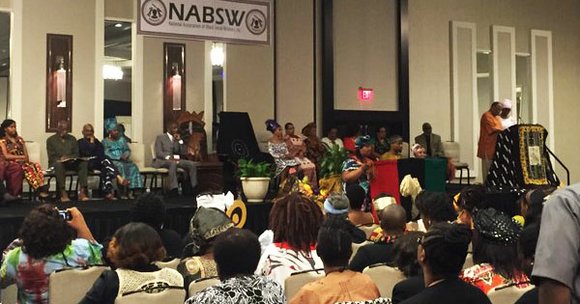 Detroit, MI--During a recent March 25th presentation at the National Association of Black Social Workers, Inc. 48th Annual Conference in New Orleans, Cheikh Mbacké, a previous president of The Michigan Association of Black Social Workers, Inc (MABSW), said, "The Michigan Association of Black Social Workers, Inc has been affiliated since 1972 with the national and international chapters of the National Association of Black Social Workers, Inc. We believe that whatever discussion(s) generated about Flint must rightly call for the resignation of Michigan's Governor and criminal prosecution of those having knowledge of or duplicity in the perpetuation of the horrific travesty surrounding what has become known locally, regionally, nationally, internationally, and universally [sic] as 'the Flint water crisis.'"
Mbacké continued, "MABSW is advocating for a pragmatic data-based, research driven, and out-come focused, long-term solution to this dilemma facing Flint. Mere anecdotal commentary, apologetic, severity minimizing rhetoric, flowery, or warm-fuzzy sound bites and photo ops will not suffice. Nor will condescending re-statement of the obvious, or discounting the values and beliefs inherent in the culture and history of people of African ancestry be acceptable. Finally, we vehemently oppose any conciliatory action which would further victimize the people of Flint by failing to create sustainable change."
According to Ella Green Moten, a previous President of both MABSW and the Flint ABSW chapter, "As Black social workers, the MABSW membership is constitutionally mandated to involve itself in human service delivery systems relative to the needs of Black people, and declare ourselves to be advocates of the Black community. As such, our finances, energies, and time is devoted to the development and implementation of programs and policies that reduce threat and enhance the growth of the Black community."
On July 26, 2010, the UN General Assembly declared "the right to safe and clean drinking water and sanitation to be a human right that is essential for the full enjoyment of life and all human rights." Prior to that declaration, the world had previously acknowledged rights to health, well-being, food, and freedom from political persecution, and much more. But not water and sanitation.
Anthony Harris, current MABSW President, states, "Access to a basic water requirement is a fundamental human right implicitly and explicitly supported by international law, declarations, and State practice. Governments, international aid agencies, non-governmental organizations, and local communities work to provide all humans with a basic water requirement and to guarantee that water as a human right. By acknowledging a human right to water and expressing the willingness to meet this right for those currently deprived of it, the water community has a useful tool for addressing one of the most fundamental failures of 20th century development."
Harris and the MABSW contend that the United States, which has typically been a world leader on protecting and enhancing political human rights, has always had a flawed position on economic and social human rights, including the human right to water. It has long been a position characterized by bad logic and a narrow and inconsistent interpretation of human rights law. The United States chose to abstain from voting on the 2010 resolution and sought to justify its abstention by asserting that the resolution described a right to water and sanitation in a way that was not reflective of existing international law; and further that there was no right to water and sanitation in an international legal sense as described by the resolution.