Local Graduate Sunny Mclver Honored as Commissioned U.S. Naval Officer
5/21/2015, 5:58 p.m.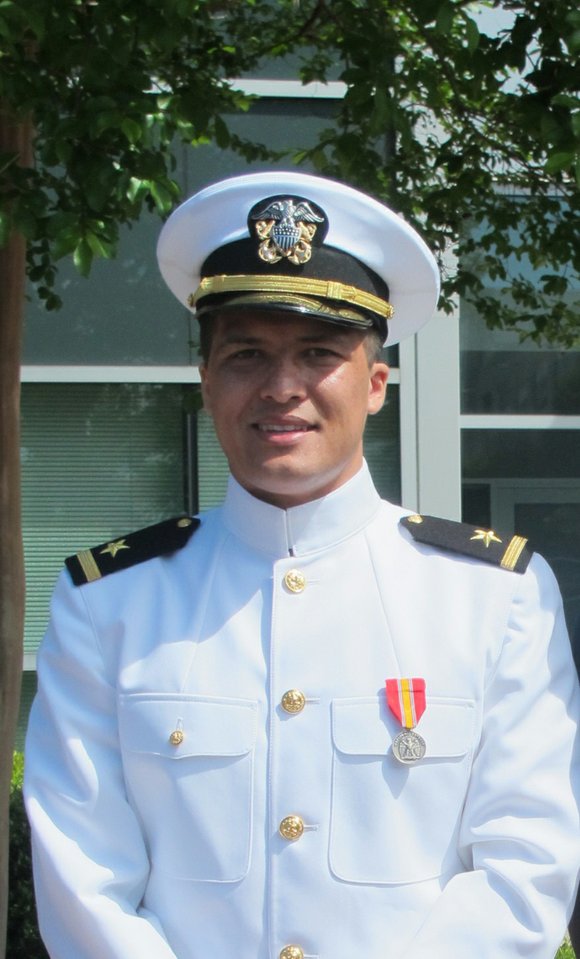 Rancho Cucamonga, CA--Sunny McIver, a 2011 graduate of Etiwanda High School, was commissioned recently as a United States Naval Officer at Hampton University in Hampton, Virginia, where he graduated Cum Laude with a Bachelor of Science Degree in Mathematics.
Sunny was awarded the 2014-2015 "Awesome Leader" Award by the Hampton University Navy ROTC Military Association and the 2015 "Distinguished Midshipman Graduate" Award by the U. S. Navy Chief of Naval Operations for having met the highest standards of leadership, academic excellence and military performance.
Recently, Sunny interviewed among a nationwide group of approximately 200 Naval College graduate applicants for the prestigious U.S. Navy Nuclear Power School, located in South Carolina. Of these applicants, Sunny was the only African-American candidate of 15, making him a candidate of less than 1% of the Navy's African-American Officers to be selected for this program.
Hampton University recognized Sunny as the first ROTC candidate to have attended Hampton University to be accepted in the U.S. Navy Nuclear Power School. There, he will study for and earn the Master Degree toward becoming a Nuclear Physicist.
Sunny is the son of James & Carlvette McIver of Rancho Cucamonga and grandson of Floyd & Joyce McIver of San Bernardino. Sunny credits his success in accomplishing his achievements thus far as a Submarine Warfare Officer to the unwavering support oh his family and the New Hope Missionary Baptist Church, his close friends and personal mentors, college professors and the K-12 public school community.