COE Phenomenal Success
6/11/2015, 1:03 p.m.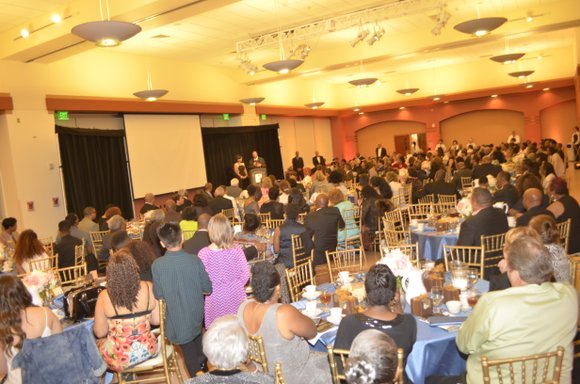 "Responding to Challenges of the 21st Century through Scholarship, Service and Solidarity" was the theme as hundreds of Southern California's most influential business and community leaders came together as the Inland Valley News, presented its 18th Annual Celebration of Excellence Awards Gala and Scholarship Dinner (COE). Held on Saturday, May 30, 2015 at Victoria Gardens' Celebration Hall in the beautiful city of Rancho Cucamonga, the COE is one of the few true celebrations of the achievements and contributions of people who help make this community the jewel of Southern California.
The 18th Annual Celebration of Excellence Awards Gala and Scholarship Dinner Publisher's Awards Recipients included: Byron K. Reed, Wells Fargo (Publishers' Choice); Bernard & Shirley Kinsey, The Kinsey Collection (Lifetime Achievement Award); Angeles Echols-Brown, Founder, Educating Young Minds (Humanitarian Award); Dr. Robert Ross, The California Endowment (Excellence in Philanthropy Award); Patricia Nickols-Butler, Community Action Partnership of San Bernardino County (Excellence in Nonprofit Leadership); Dr. Jaime Lozada, Loma Linda School of Dentistry ( Excellence in Medicine Award); Carolyn Tillman, San Bernardino County Schools (Excellence in Education Administration); Commissioner Eric V. Isaac, Judge, Riverside Superior Court (Excellence in Jurisprudence Award); Dr. Devorah Lieberman, President University of La Verne (Excellence in Educational Opportunities Outreach Award).
The Community Awards Recipients included: Dr. Eric Bishop (Excellence in Educational Innovation); Yolanda Davis-Smith, (Excellence in Community Engagement); and Richard "Dick" & Pam Bunce (Excellence in Volunteerism.)
The Scholarship Recipients included: Christopher Cole (returning recipient), New York University; Victor Avina Jr.; Megan A. Florez; Bianca Franco; and Krystal Rhaburn.
Congratulations to all our honorees and recipients of the 2015 Celebration of Excellence.
The proceeds from this event provides scholarships and internships to champion and support deserving students from under-privileged communities who are pursuing education or careers in mass communications and the arts, as well as those who are pursuing careers in the STEM-related industries.
The 18th Annual Celebration of Excellence would not be possible without the contributions from our sponsors which included: Wells Fargo, Raytheon, Applied Computer Online Service, The Pete and Barbara McCormick Family Trust, Chaffey College, City of Fontana, City of Rialto, GLP, Inter Valley Health Plan, Macy's, Omnitrans, Transcendence Children and Family Services, University of La Verne, Union Bank, Southern California Edison, California State University, San Bernardino, Toyota, The California Endowment, Pomona Valley Hospital Medical Center, Cal Poly Pomona, Word of Life Christian Bookstore, Mark Christopher Chevrolet, Western University of Health Sciences, College of Podiatric Medicine, California Correctional Employee Youth Group and Continuing the Dream, Sempra Utilities/The Gas Company, Pomona Unified School District and Fontana Police Officers Association. The Media Sponsors were The Wave, Urban Philanthropy Magazine, The Inland Valley News and its subsidiaries.
For more information regarding the 2016 Celebration of Excellence Awards and Scholarship Gala, please contact the IVN office at (909) 985-0072 or visit www.the-coe.org or www.inlandvalleynews.com