The National Sports Beat with Brad Pye Jr.
7/30/2015, 4:36 p.m.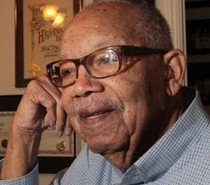 Los Angeles, CA--Notes, quotes and things picked up on the run from coast-to-coast and all the stops in between and beyond.
How good will the L.A. Lakers be in the 2014-15 season? Better than in 2015? I hope so! Off their play in 2014-15 the Lakers first year new comers don't have their fans shouting in the aisles at the Staples Center. Kobe Bryant will have to be a miracle worker in at least 72 of the Lakers 82 regular season games.
The Seattle Seahawks are picked to return to the Super Bowl for the third consecutive season. Come on QB Russell Wilson lead your boys one more time!
Remember how effective ex-L.A. Rams running back Wendell Tyler was when traded to the San Francisco 49ers? Will ex-Miami Dolphin Reggie Bush be as effective and be as productive as Tyler was as a '49er?
Super Bowl '50 could look like Grambling vs. Southern. Both teams will be black-laden and one could feature an African-American QBs. One of these QBs—The Tampa Bay Buc's Jameis Winston should be a man of color.
And the beat ends! Brad Pye Jr., can be reached at switchreel@aol.com