LA and Surronding Cities Mourn the Loss of Mother Marie Green
8/6/2015, 4:27 p.m.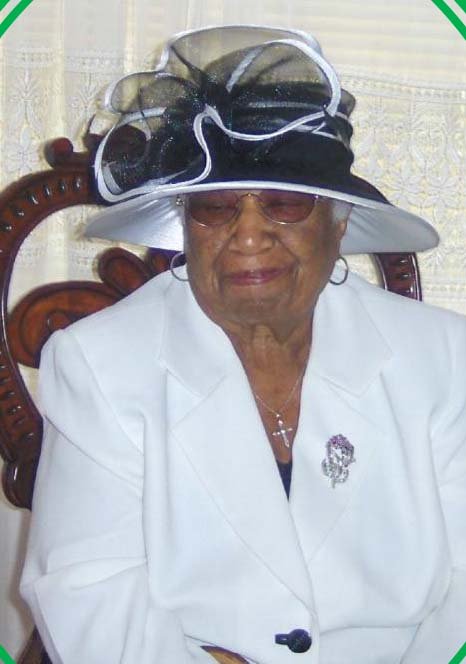 Marie Green was born September 16, 1917, in Houston, Texas, the eighth child of 10 children born to Nathan and Elizabeth (Kinley) Johnson.
Marie Green accepted Christ as her Savior at an early age at the family's home church Sunlight Baptist Church of Houston, Texas.
Marie Green met and married Des Moines Green, Sr. and together they raised 10 beautiful children together.
In 1962 Marie Green moved to Los Angeles, California with 7 of her children and resided in Inglewood as well as Los Angeles before settling down in Cerritos, CA in 1975 with her oldest daughter and family.
Marie Green joined the Baptist Church of the New Covenant in Norwalk, CA in 1982 under the pastoral leadership of Rev. William Campbell and continued her membership under the pastoral leadership f Bishop L. Daniel Williams, where she remained faithful and active until 2010. Throughout her tenure at The Baptist Church of the New Covenant she was committed to the Saint's Alive Ministry as well as the Women's Connection Ministry.
Marie Green loved to travel with her friends the Cerritos Gat-A-bouts and the Eastern Stars. She was a 'green thumb' gardener, a great cook, and gentle, generous, and giving woman.
Marie Green loved her 10 children, adored her 24 grandchildren and was blessed to share quality moments with many of her 43 great-grandchildren and even some of her 17 great-great grandchildren.
Marie Green transitioned from her earthly home to rest in the arms of her heavenly Father July 25, 2015. She was preceded in death by her parents, her husband, all of her siblings, all of her sister and brother-in-laws, 4 of children: John, Albert, Des Moines, Jr., and Melzeria, and also 2 grandchildren.
Marie Green better known as Mother, Mudear, Grandmother, and Nana will be sorely missed by her family, friends, and all whose life she touched in her 97 plus years here on this year.