Surprise Reunions, Rousing Performances and Legendary Honors Were Bestowed Upon the Best in Gospel Music at the 30th Anniversary Stellar Gospel Music Awards Show
4/2/2015, 3:12 p.m. | Updated on 4/2/2015, 3:12 p.m.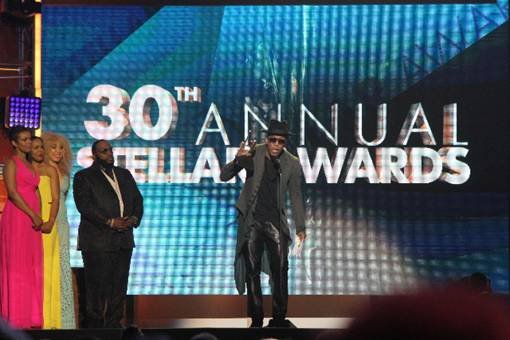 Front Page Firm/PR -- LAS VEGAS, NV -- Dubbed the greatest night in Gospel music, the 30th Annual Stellar Gospel Music Awards at the Orleans Arena in Las Vegas turned "Sin City" into "Salvation City." Celebrating 30 years, the Stellar Awards was co-hosted with comedic flare by David Mann ("Mann & Wife), Tamela Mann ("Sparkle") and Ricky Smiley ("Dish Nation") during the 2-hour taped telecast premiering Easter Sunday, April 5 at 9 p.m. ET/8 p.m. CT on TV One.
The Stellar Awards recognizes the year's best performances in the genre, honors Gospel music icons and acknowledges the accomplishments of individuals instrumental in advocating for the industry.
The big surprise of the evening came at the top of the show, when opening act Michelle Williams was joined by former bandmates Beyonce and Kelly Rowland in a show-stopping reunion that brought the audience to its feet singing her song, "Say Yes," a winner for "Best Music Video of the Year."

Ten-time nominee Erica Campbell took top honors, winning six awards including Artist of the Year, The Albertina Walker Female Vocalist of the Year, Contemporary CD of the Year and Urban/Inspirational Single or Performance of the Year. She acknowledged her sister, the other half of award-winning duo Mary Mary in her heartfelt remarks.
"Thank you Tina for saying that you needed a break," said Erica. "...Cause I wouldn't have done it ("Help") if you didn't say that."
Ricky Dillard and New G followed Campbell with three wins, and Deitrick Haddon tied with The Walls Group for two trophies apiece. On stage after winning the Male Vocalist of the Year award, Haddon expressed gratitude for being recognized following a difficult time in his life.
"A couple of years ago I messed up so bad I thought I could never inspire anyone again," he shared. "I was ready to quit and God spoke to me - He said, if you humble yourself I'll lift you up to places you're never seen. This award is for people who think it's over for them."

Haddon later brought the house down with a star-studded rendition of "My City" collaborating with Dorinda Clark-Cole, Clareta Haddon, Kierra Sheard, J. Moss, 21:03 and Shelby Five.
The New Artist of the Year award was presented to Tasha Page-Lockhart, making her first Stellar Awards appearance, performing "Great Is Your Love" and "Faith Come Alive," with fellow first-timers The Walls Group.
When the tape was not rolling it was Jonathan Slocumb who kept the crowd moving with jokes, special shout outs, a special birthday wish for one woman who ended up having Smokie Norful and Tina Campbell sing happy birthday exclusively to her and so more much.
Other masterful performances included Smokie Norful, Jonathan McReynolds, Erica Campbell and Pastor Beverly Crawford who all delivered passionate hand-clapping and foot-stomping presentations to the delight of the filled-to-capacity crowd. The Stellar Awards signature is its powerful collaborations, and this year was no exception with Rance Allen Group, Lisa Knowles & The Brown Singers, as well as Uncle Reece, Willie Moore, Jr. and Canton Jones teaming up to deliver amazing musical numbers.