Cerritos Center for the Performing Arts Welcomes Back Dave Koz and Friends Christmas
11/20/2014, 6 a.m. | Updated on 11/20/2014, 6 a.m.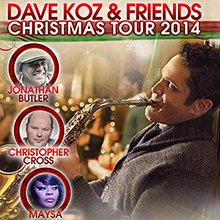 Cerritos, CA-- Dave Koz and Friends Christmas Tour celebrates its 17th anniversary in a return visit to the Cerritos Center for the Performing Arts (CCPA) with a festive holiday concert. Renowned saxophonist Dave Koz is joined by acclaimed singer-guitarist Jonathan Butler, Pop singer Christopher Cross, and award-winning vocalist Maysa for performances at 8:00 PM on Friday, December 19 and Saturday, December 20.
A special Happy Holidays VIP experience is available, which includes premium orchestra level seats, a 30-minute meet and greet prior to the show, a photograph and Q&A session with Koz, an autographed VIP laminate, and an autographed copy of the Dave Koz & Friends The 25th of
December album. There are limited spaces available. For more details, call (877) 606-9222.
A cherished holiday tradition, DAVE KOZ AND FRIENDS CHRISTMAS TOUR 2014 brings together a magical combination of musicians performing their hits and lively arrangements of seasonal favorites in an uplifting, high-energy show the whole family will enjoy.
Platinum-selling saxophonist-composer DAVE KOZ has sold millions of albums worldwide, including Lucky Man, and the holiday CDs Ultimate Christmas, December Makes Me Feel This Way, and A Smooth Jazz Christmas. The Seattle Times praised the six-time Grammy nominee, citing in particular Koz's "clean, fluid sax lines, which have been heard on a variety of recordings, from U2's R&B remix of When Love Comes to Town … to albums by Ray Charles, Natalie Cole, Richard Marx, Gladys Knight, and Donny Osmond." Koz's Saxophonic album was nominated for a Grammy and an "Image Award" from the National Association for the Advancement of Colored People. Since 1994, Koz has hosted the popular syndicated radio program The Dave Koz Radio Show, which spotlights who's who and the latest sounds in the Smooth Jazz genre.
Two-time Grammy nominee JONATHAN BUTLER has the "dynamic energy of a young James Brown, ripping off guitar licks with the creative ingenuity of a George Benson, singing with the style and communication of an Al Jarreau," lauded the Los Angeles Times. The singer-guitarist busted racial barriers and stereotypes with his debut single, Lies, which was the first song by a black musician to be played on white radio stations in South Africa. The hit catapulted Butler into the international limelight, and he followed with the Grammy-nominated instrumental Going
Home and the ballad Sarah, Sarah, which confirmed his position in popular music. Butler's collection of diverse albums includes Surrender, The Worship Project, Jonathan, Brand New Day, and So Strong.
Oscar and five-time Grammy winner CHRISTOPHER CROSS soared onto the music charts with smoothly sophisticated ballads, including Sailing, Ride Like the Wind, Never Be the Same, Think of Laura, and Say You'll Be Mine. The crooner's Arthur's Theme (Best That You Can Do), featured in the Dudley Moore smash comedy hit Arthur, garnered an Oscar. Citing the musician's "catchy romantic pop tunes with their wistful harmonies propelled by brisk Latin-inflected arrangements," The New York Times praised, "Cross possesses a keening pop tenor and is a deft lead guitarist." Cross' latest album is Doctor Faith.
Award-winning Jazz singer MAYSA's "voice is sublime – down-home funky one moment and elegantly jazzy the next," hailed The Dallas Morning News. The songbird's albums include All My Life, Out of The Blue, Smooth Sailing, Sweet Classic Soul, and Feel the Fire. Her albums Metamorphosis, Woman in Love, and Motions of Love claimed the No. One spot on Billboard Jazz charts. Jazziz Magazine called Maysa "one of the most identifiable and consistently enjoyable singers in underground soul."
Tickets, ranging from $95-$50, can be purchased at the CCPA Ticket Office, at cerritoscenter.com, or by calling (562) 467-8818.