Historic Black Coach Hired at Texas
1/29/2014, 11:14 a.m.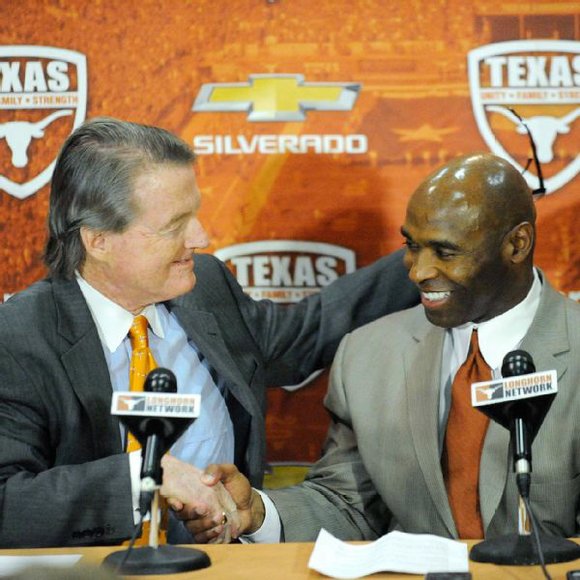 Austin, TX--At the University of Texas, football is religion. At Penn State University, they need football for redemption. So when these storied programs hired black head coaches within days of each other to return them to past glory, it was a major moment for a sport that has been among the slowest to promote African-American leaders at the highest level.
There have been other black head coaches at top football schools — Notre Dame, Stanford, Miami, UCLA. But the recent hiring of Charlie Strong at Texas and James Franklin at Penn State sent a powerful message, because of the combined prestige, mystique and influence of those teams.
"It's a historical moment," said Doug Williams, the first black quarterback to win a Super Bowl and a former head coach at Grambling.
"We've come a long way in a couple weeks," Williams said. "Even though we don't have as many as you would like, but when you get a Penn State and a Texas, them schools together almost make up for about 10 schools."
There are 125 colleges playing in the top-level Football Bowl Subdivision. In 2013, 13 of them had black coaches. That was down from 15 in 2012 and an all-time high of 17 in 2011. Strong and Franklin have not been replaced by African-Americans, so the overall numbers remain low.
For Franklin, the numbers are less important than the opportunities.
"I don't underestimate the significance of this moment. I take a lot of pride in that," he said in an interview. "But the most important thing is we're getting to a point where universities and organizations and corporations are hiring people based on merit and the most qualified guy.
"We're making tremendous strides," Franklin said. "The more opportunities that coaches get and go out and do well and succeed, it helps. It helps change perceptions, and perceptions are a powerful thing."
Black coaches have won championships in college basketball and pro football, baseball and basketball. But no black coach has won the college football national title.
For Ty Willingham, who in 2001 became the first black head football coach at Notre Dame, the recent events produced a mixture of emotions.
"You are extremely proud that it is an African-American," Willingham said. "At the same time, it represents that an outstanding coach has proved his abilities. That's what the whole struggle is about, is the opportunity for a man to prove his abilities.
"I don't think it's a novelty now," said Willingham, who also led teams at Stanford and the University of Washington. "In a sense, we're past it. I still don't think we're at that place where it is a commonplace thought. But we are getting closer, and that is a wonderful day."
That may be one reason why race was not a dominant theme when Strong and Franklin were named last week. Some noted that Texas, which fielded college football's last all-white championship team in 1969, had never had a black coach before. And the success of the black coach Kevin Sumlin at archrival Texas A&M made race less of an issue with Strong.