Celebrity of the Week: Grace Goldsboro Celebrates 101st Birthday
12/25/2014, 10:41 p.m. | Updated on 12/25/2014, 10:41 p.m.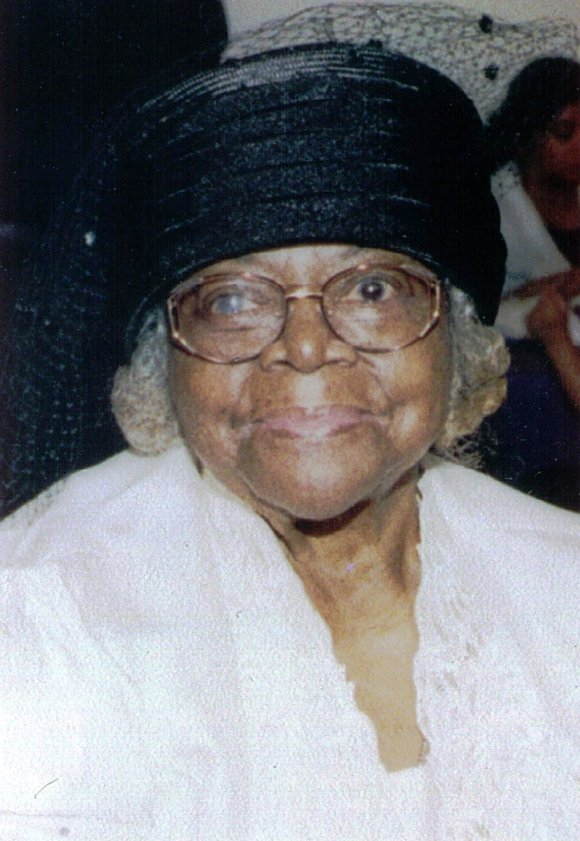 West Covina, CA-- By the grace of God, Grace Goldsboro has lived her life long dream of joining the elite group of centenarians in the United States. In the year she was born, the life expectancy in the United States was a mere 55 years. Needless to say she beat the odds. One of a family of 12, she was born Grace Alethia Harmon on November 29th 1913, in Camden, New Jersey. She graduated from Haddon Heights High School, later married and was mother of four children. Three are deceased. Her life has been one of service and giving.
She has given service in both her community and church. She was an Eastern Star, member of the VFW, and East Camden Civic Association. She served as superintendent and teacher for the Sunday school, missionary, usher, trustee and treasurer at Hosanna AME Church. Some of her fondest memories were when she taught the children in Sunday school.
She was a professional coat maker for many years working at home as an independent contractor and in the factory. She retired from the garment business and re-entered the workforce to assist in the opening of the Bernice Miller Day Care and Educational Center. She retired for the second time and was retired for several years before embarking on a new career path as a licensed day care provider for children. At the age of 70, she opened her own facility in the Whitman Park area of Camden, New Jersey before finally retiring.
She lived in Camden, most of her life and moved to West Covina, CA at the age of 82 years. Her transition to her new community was made easy by the many friends she made in the Golden Circle at St. Stephens Baptist Church, La Puente; Community Baptist Church, Baldwin Park; New Beginning Christian Fellowship, West Covina; and Victory Community Church, Upland. She is currently a member of the New Direction Church of God in Christ in Rancho Cucamonga, under the leadership of Bishop Raymond E. Watts. Her friends endearingly call her "Mother Grace".
Prior to her stroke seven years ago, she loved being active in church activities, embroidery work, scrap booking of historic events including people who reached the age of 100, playing pinochle, and crossword puzzles. She still enjoys television. The religious programs, soaps and game shows are her favorites. The "Price is Right" show she especially enjoys, she was a contestant and won prizes in 1987.
Some of the highlights of her life have been receiving a certificate in 1996 at the Arlington National Cemetery Memorial Amphitheater in recognition for the service of her great-great grandfather Timothy E. Shaw for his service in the Union Army in the Civil War; standing along with the Rev. Dr. Martin Luther King Jr., who was the best man at her daughter's wedding, in 1954; and being able to vote and living to see the historic election of the first African American President of the United States.

She has touched history and has made history. She made history, when a request was made for recognition for her landmark birthday to West Covina Councilman Fred Sykes. At the meeting on October 15, 2013, the City Council formally approved the implementation of a program for all centenarians in West Covina. Therefore, she is responsible for the West Covina Centenarian Recognition Program.