WesternU Foot & Ankle Center Welcomes Drs. Chan and D'Amico
8/5/2014, 9:14 a.m.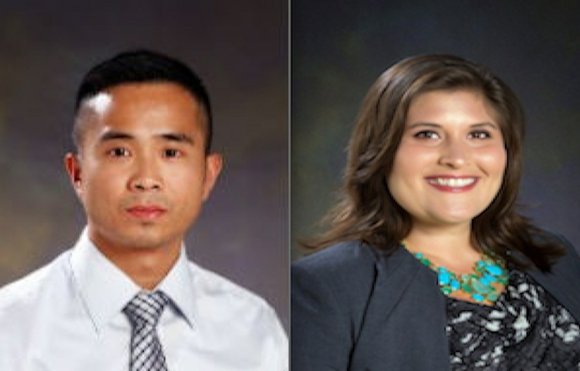 WesternU Foot & Ankle Center Welcomes Drs. Chan and D'Amico
By: Jacqueline B. Truong, DPM, MPH
Are you worried that your child is walking funny? Are you tired of fighting chronic pain from an old injury or arthritis? Do you have a foot or ankle problem that just won't go away? You're in luck! Western University of Health Sciences Foot and Ankle Center has two new podiatric physicians that can help.
Meet Drs. Francis L.S. Chan and Jennifer D'Amico. Drs. Chan and D'Amico both specialize in the care of these foot and ankle problems and are qualified to treat all foot and ankle disorders. They are a welcomed addition to the highly trained team of podiatric physicians at the Foot & Ankle Center.
Dr. Chan was trained in arthritis management and joint replacement. These treatments can help to extend the life of your joint, lessen pain and improve walking. He also enjoys treating bunions, flatfoot, sports injuries, and trauma including burns.
He is originally from British Columbia, Canada and went to college at University of British Columbia. He obtained his doctorate degree in podiatric medicine from Temple University School of Podiatric Medicine and went on to receive advanced surgical training at the esteemed Swedish Medical Center and Harborview Medical Center in Seattle, Washington where he worked with prominent orthopedic and podiatric surgeons in both the United States as well as Europe.
Dr. Chan believes each patient is unique and tries to work with each person to provide the treatment plan that gives you the most success, maintain function and help reach your desired activity level. In his spare time, he enjoys playing and watching sports – especially basketball, soccer and American football. He loves food and spending time with his family and friends. He is fluent in Cantonese and English.
Dr. D'Amico has a passion for treating trauma as well as treating babies and children with foot and ankle problems. She also enjoys flatfoot, heel pain and uses a nonsurgical treatment called the Ponseti method. This method helps babies born with foot problems that, if not treated, could lead to a lifetime of pain and disability.
She is a native of Long Island, New York and graduated from The Catholic University of America. She attended New York College of Podiatric Medicine where she received her doctorate in podiatric medicine, then completed an advanced surgical training at Scripps Mercy/Kaiser San Diego. She also completed an orthopedic reconstruction fellowship at the International Center for Limb Lengthening at Sinai Hospital of Baltimore, Maryland as well as a fellowship in trauma at Inselspital at the University of Bern, Switzerland.
Dr. D'Amico's believes in treating all her patients as if they were family by helping you to learn about your problem and the treatments that best fit your needs and goals. She is passionate about biking at the beach, painting, playing with her Great Dane, and jeopardy. Dr. D'Amico speaks fluent Spanish, English, and some Italian.
Both Drs. Chan and D'Amico are currently taking new patients and accept a wide variety of insurance plans. They will be on medical staff at Pomona Valley Regional Medical Center and Chino Valley Medical Center. To learn more, contact the Western University of Health Sciences Foot & Ankle Center at 909-706-3877 or visit them at http://www.westernupcc.com/foot_ankle.html.