Union Bank and KCETlink Host 16th Annual Local Heroes Awards
10/31/2013, 8 a.m.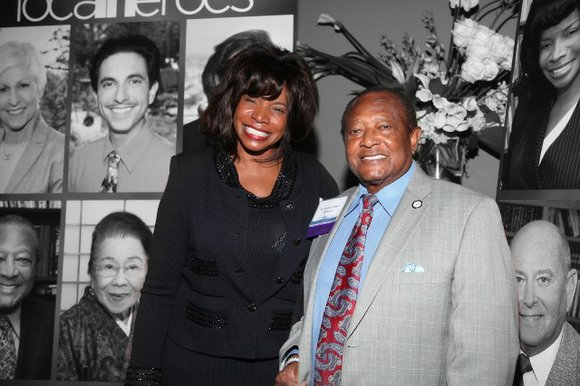 Los Angeles, CA – As part of its ongoing commitment to cultural diversity and responsible banking, Union Bank, N.A., partnered with KCET to honor 12 extraordinary individuals at the 16th Annual Local Heroes Awards. The honorees, including Angeles Echols-Brown and Richard Allen Williams, MD, FACC, FAHA, were announced as part of the 2013 Local Heroes Program, which pays tribute to exemplary leaders who are making a difference and enriching the lives of others by improving their workplace, community, region and the world. The year-long celebration of diversity culminated with an awards ceremony held at Club Nokia at L.A. Live, where recipients were formally recognized. The event will air on KCET on November 25 and 28, 2013 at 8 p.m.
Echols-Brown is the founder and executive director of Educating Young Minds (EYM), a Los Angeles-based nonprofit organization that she started in her apartment in 1987. EYM has grown to help more than 3,500 inner-city students who have been nurtured and empowered by Echols-Brown's passion and commitment to education. EYM provides help with homework, mentoring and counseling for students, from kindergarteners to high school seniors, and assistance to parents. Echols-Brown's passion is also reflected in her previous work as an instructor, tutor, counselor and teacher at Harvard University's Upward Bound program, Chaffey College and Los Angeles' Trinity Lutheran School. She received her bachelor's degree from Cornell University in 1979 and has been recognized nationally for her outstanding work.
Dr. Williams has served as a clinical professor of medicine at UCLA School of Medicine since 1984 and is president and CEO of the Minority Health Institute (MHI). MHI's mission is to educate physicians, healthcare professionals and the public about ways to improve health services to African Americans and other minorities in Los Angeles. The organization offers health fairs, seminars, lectures and media campaigns that encourage a proactive and preventive approach to improving health. It also provides scholarships to minority students who wish to pursue a career in medicine, and on a case-by-case basis, helps attain necessary medicine at no cost for families who are economically disadvantaged. In addition to MHI and UCLA, Dr. Williams authored Textbook of Black-Related Diseases, and in 1972, he served as the first assistant medical director of Martin Luther King, Jr. General Hospital, and later secured $2.4 million to develop the King-Drew Sickle Cell Center.
For more information about the Local Heroes program, or to nominate a 2014 local hero, please also visit unionbank.com/heroes.
Headquartered in San Francisco, UnionBanCal Corporation is a financial holding company with assets of $105.5 billion at September 30, 2013. Its primary subsidiary, Union Bank, N.A., provides an array of financial services to individuals, small businesses, middle-market companies, and major corporations. The bank operated 422 branches in California, Washington, Oregon, Texas, Illinois, and New York as well as two international offices, on September 30, 2013. UnionBanCal Corporation is a wholly-owned subsidiary of The Bank of Tokyo-Mitsubishi UFJ, Ltd., which is a subsidiary of Mitsubishi UFJ Financial Group, Inc. Union Bank is a proud member of the Mitsubishi UFJ Financial Group (MUFG, NYSE:MTU), one of the world's largest financial organizations. In July 2013, American Banker Magazine and the Reputation Institute ranked Union Bank #1 for reputation among its customers. Visit www.unionbank.com for more information.