Commander Eugene Smith Makes Mark on US Navy
6/27/2013, 2:23 p.m.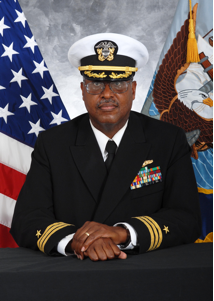 Pomona, CA-- CDR Eugene Smith is currently serving on the staff of the Commander Navy Region Japan/Forces Japan as the Assistant Chief of Staff/ Chief Information Officer for Command, Control, Communications and Computers (C4) and Information Infrastructure Capabilities (DCIO for C4IIC).
Commander Smith graduated from Chapman University in Orange CA with a Bachelor's degree in Biology and received his commission through Aviation Officer Candidate School October 1989. In 1999 CDR Smith received a second Bachelor of Science degree in Electronic Engineering Technology.
After an extended stay in the IRR; CDR Smith affiliated with the active reserve component in May of 2000 to become the Executive Officer and then OIC of Explosive Out-load Team Det 1 in Fallbrook CA. In October 2003 he was briefly assigned to MSC Detachment Fallbrook where he was subsequently detached to join Fleet Information Warfare Center San Diego to serve on the reserve staff establishing the reserve component of the command.
Commander Smith was recalled to active duty as an individual augmentee in January 2006. He reported to Fort Jackson to begin indoctrination as a Civil Affairs Officer and completed his training at Fort Bragg NC where he joined the US Army 402nd Civil Affairs battalion serving as the Deputy Director of the Provincial Coordination Cell MND North Iraq, in Tikrit.
After completing a tour in Iraq, in May 2007 Commander Smith was assigned to OPNAV N6 where he worked on the transition of Navy's CONUS ashore network as an action officer writing the requirements document. Directly after this assignment he was sent to work as a Battle Watch Captain at the Office of Defense Cooperation in Ankara Turkey in May of 2008.
In November of 2008 CDR Smith reported to OPNAV N3/N5 and was assigned to US Coast Guard Head Quarters in Washington DC where he was tasked with creating engagement plans to define and communicate the US strategy for Maritime Domain Awareness to foreign partners. In February 2009 CDR Smith was re-assigned to N3/N5 at the Pentagon to assume responsibilities as the Maritime Domain Awareness Technology Coordinator.
In October 2009, CDR Smith reported to the Navy Yard Washington DC to PEO-EIS PMW 210 as the staff lead for information technology service management for the NGEN program. While serving in this capacity he earned a Masters Degree in Information Systems.
Upon completion of his active duty assignment with PEO-EIS PMW 210 in 2011, CDR Smith returned to the reserve component and was assigned to Commander Pacific Fleet Maritime Operation Center Det, 601. While assigned as a special projects Officer he completed an active duty for training assignment to create the SPIR PKI Policy and process instruction.
In May of 2013 CDR Smith assumed the responsibilities of CNFJ/CNRJ N6 in Yokosuka, Japan. His Military decorations include A Navy Commendation Medal, Army Commendation Medal, Navy Achievement Award, Joint Achievement Award. His civilian career has taken him from being a School Teacher in the Los Angeles School District to working as a Plasma Physicist for Applied Materials as well as an IT business owner in Southern California.