Award-winning Producer George Duke Dies at Age 67
8/7/2013, 3:32 p.m.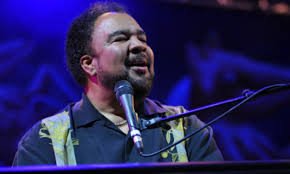 Los Angeles, CA-- George Duke was born in San Rafael, California, and reared in Marin City, a working class section of Marin County. When he was just four years old, his mother took him to see Duke Ellington in concert. "I don't remember it too well," says George, "but my mother told me I went crazy. I ran around saying 'Get me a piano, get me a piano!'" He began his piano studies at age seven, absorbing the roots of Black music in his local Baptist church. "That's where I first began to play funky. I really learned a lot about music from the church. I saw how music could trigger emotions in a cause-and-effect relationship."
By the age of sixteen, George had played with a number of high school jazz groups. He was heavily influenced by Miles Davis and the soul-jazz sound of Les McCann and Cal Tjader. Attending the San Francisco Conservatory of Music and majoring in trombone and composition with a minor in contrabass, he received his Bachelor of Music degree in 1967.
George and a young singer named Al Jarreau formed a group which became the house band at San Francisco's Half Note Club. "There was another club up the street called The Both/And and I worked there on Mondays with everybody from Letta Mbulu to Sonny Rollins and Dexter Gordon." George later received a Masters Degree in composition from San Francisco State University and briefly taught a course on Jazz And American Culture at Merritt Junior College in Oakland. It was about this time that George began to release a series of jazz LP's on the MPS label.
The George Duke Trio which emerged from those sessions was soon burning a path of creative excitement through the jazz world. It included a major European tour and an appearance at the Newport Jazz Festival. The group's first gig in a rock-oriented venue came in early 1969. "It was a club in Los Angeles called Thee Experience," George recalls. In attendance were Cannonball Adderly, Quincy Jones, Frank Zappa, and the unexpected presence of an electric, rather than acoustic, piano on-stage. The Ponty-Duke performance wowed the crowd, and ushered in the West Coast counterpart of the Eastern fusion revolution sparked by Miles Davis, The Mahavishnu Orchestra and Weather Report. Before '69 was out, George joined Frank Zappa (as he put together a new "Mothers of Invention" lineup) and toured for an entire year.
George Duke became a solo artist in 1976, and enjoyed success with a series of fusion-oriented LP's such as his debut CBS LP, From Me To You. In 1978, the funk-flavored sound of the gold album Reach For It propelled George Duke into the upper reaches of the charts, and from small clubs to large arenas.
In the late '70s, George decided to get into producing as a career. George began by producing the Brazilian instrumentalist Raoul de Souza, then made his first vocal album with singer Dee Dee Bridgewater. His breakthrough came with an album by A Taste Of Honey. The single, "Sukiyaki," went to Number 1 on the pop, adult contemporary, and R&B charts, ultimately selling over two million copies.